Cane Bay Partners Co-founder David Johnson, a long-time supporter of his alma mater the University of West Georgia, has been recognized by Georgia's higher education community for his outstanding contributions to UWG.
Johnson and several others were awarded as 2023 Regents' Hall of Fame Alumni and Distinguished Friend recipients on Sept. 8 during a statewide gala celebrating impactful students, faculty, and supporters of higher ed.
The award comes from the University System of Georgia Foundation Board of Trustees, the annual gala's host since 2004.
"Dave Johnson is a distinguished alumnus, perhaps one of the most distinguished, of the University of West Georgia," UWG President Brendan Kelly said in a pre-recorded video shown during the ceremony.
"And he, as a person and professional, far exceed the criteria for the award that we're recognizing him for tonight," Kelly continued. "His dedicated service to his alma mater continues to make the University of West Georgia richer and better all the time."
In a statement following the gala, Johnson said he was "honored to receive this recognition." He acknowledged the University System of Georgia for contributing to his achievements and said it was a privilege to keep giving back to the system.
"I'm glad that I was able to attend two different schools in the University System of Georgia, and I credit that opportunity as a large part of the success that I've been able to achieve," Johnson said. "It's been an even greater honor to give back to the newest generations of bright minds being nurtured in the Georgia higher ed system right now. And I'm rooting for them to keep growing, to take calculated risks, and to dare to be great."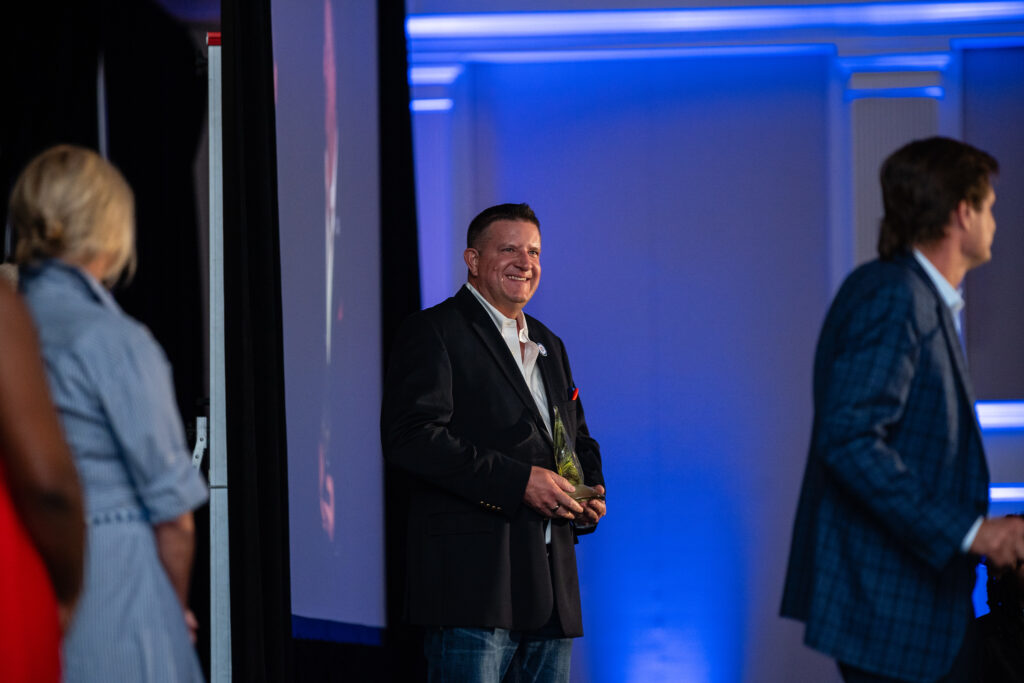 Johnson graduated from the University of West Georgia with a BBA in Management and Management Information Systems (MIS) as well as an AAS in Computer Science in 1996. He later attended Georgia State University, where he earned an MBA with a concentration in Computer Information Systems.
Since then, Johnson has become the owner of several successful fintech consulting firms, including Cane Bay Partners, and has built a reputation as an executive leader and seasoned investor.
Crediting UWG for many of the early academic experiences that nurtured his success, Johnson has demonstrated his gratitude by sharing his time, expertise, and financial support with the school over the years.
In 2011, his monetary gift established the "David A. Johnson Applied Econometrics and Analytics Fund," which made it possible for UWG to offer courses in econometrics and business analytics using SAS statistical software.
Another contribution in 2015 established the "David A. Johnson Distinguished Scholar" endowment to support a dedicated professorship within the analytics program.
Then, in 2016, Johnson made a substantial contribution that helped fund the construction of the 70,000-square-foot facility that houses the Richards College of Business. UWG named the lobby of the building the David A. Johnson Commons in his honor.
Johnson is also known to dedicate time to mentoring UWG students at various educational initiatives, including UWG's annual SAS Analytics Summit, and more recently, their first Wolf Den Elevator Pitch Competition.
Read More
Legacy of Excellence: UWG Alumnus Receives Prestigious Board of Regents Award — University of West Georgia News Room
Legacy of excellence: UWG alumnus receives prestigious Board of Regents award — Times-Georgian
Board of Regents' Hall of Fame Alumni & Distinguished Friends Award: David Johnson on Contributions to UWG — Metro Atlanta CEO
Board of Regents' Hall of Fame Alumni & Distinguished Friends Award: David Johnson on Contributions to UWG — Albany CEO