St. Croix, USVI – Cane Bay Partners VI Co-Founders Kirk Chewning and David Johnson on Monday congratulated Team Cane Bay VI for their outstanding participation in this year's Ironman 70.3 St. Croix triathlon on Sunday, May 1.
Team Cane Bay VI triathlete Julie Sommer came in second in her division (female 35-30) with an overall time of 6:13:48; and the Team Cane Bay VI relay team – with Jeff Dykstra on swim, Mehran Chirehdast on bike and Jason Snow on run – placed fifth in the relay division with an overall time of 6:25:20. Dykstra and Chirehdast are also employees at Cane Bay Partners. Dykstra is the company's software development manager and Chirehdast is the chief risk officer. (See their full times and placements below). Cane Bay Partners VI also was a sponsor of the Ironman 70.3 St. Croix.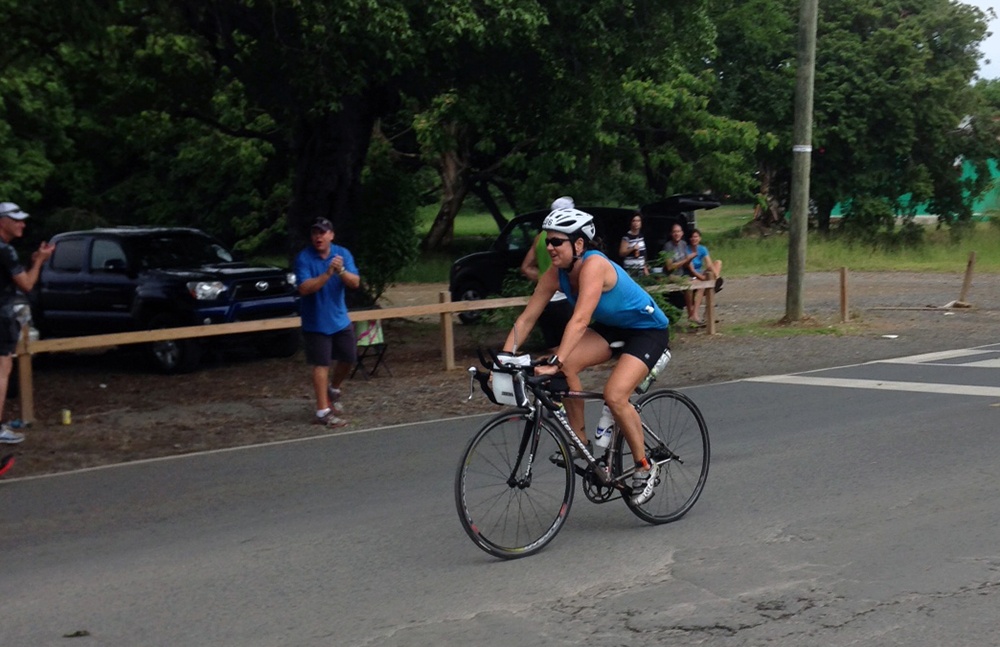 "Seeing Team Cane Bay VI, a team of all local residents, do so well was a really proud moment, not just as a founder of the company but also as a resident of St. Croix," said Kirk Chewning, co-founder of Cane Bay Partners. "I was right there on the sidelines cheering each one on as they passed. What a great event that inspires community involvement."
This was Sommer's fifth time competing in the St. Croix Ironman 70.3 and just last month she placed seventh in her age group in the Ironman 70.3 San Juan. Chirehdast is a former amateur soccer player from the Ford Soccer Club Mustangs premier league in Southeast Michigan, and this was his first time competing in the Ironman St. Croix. This is Dykstra's second year participating in the swim portion of the relay race, he also recently competed in the St. Kitts-Nevis Channel Swim. Snow is an avid runner, first participating in the Ironman 70.3 St. Croix in 2006, then switching focus to sprint and Olympic distance races, and now returning to the Ironman as a relay runner on Team Cane Bay VI.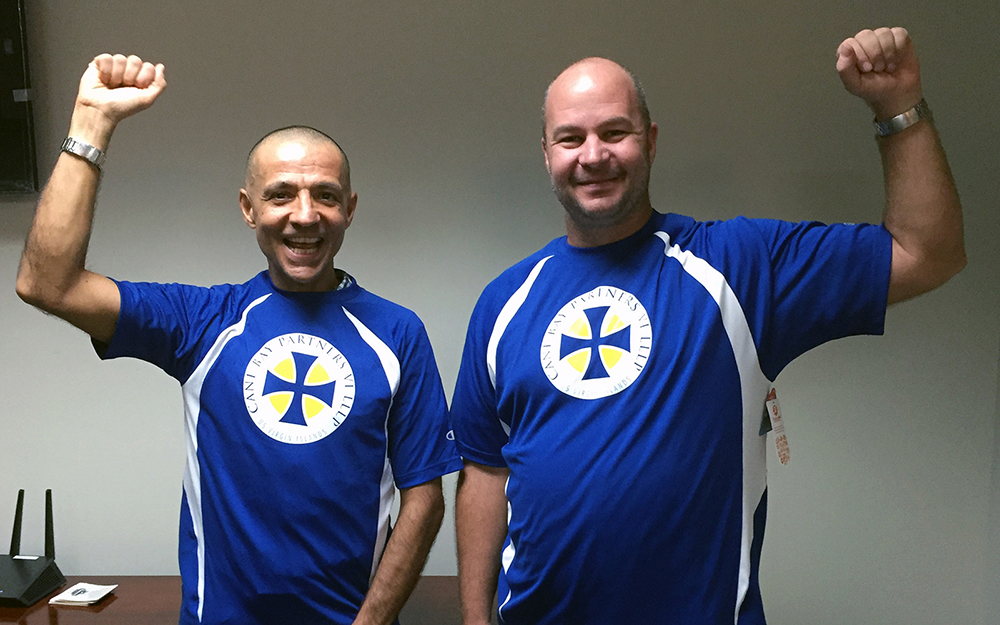 "Julie, Jeff, Mehran and Jason have us all beaming with pride, they did so fantastic and really showed off what this island is made of. We couldn't be more proud of our team and our island," said David Johnson, co-founder of Cane Bay Partners. "This is an international event and we are lucky to have such incredible athletes to represent the island and our company. Go Team Cane Bay VI!"
The Ironman St. Croix includes a 1.24-mile swim through Christiansted harbor, beginning at Hotel on the Cay; a 56-mile bike course beginning on Hospital Street in Christiansted, heading toward the East End, then to the North Shore, passing over the notorious "Beast" then heading back east; and a 13.1-mile run looping between Christiansted and the East End.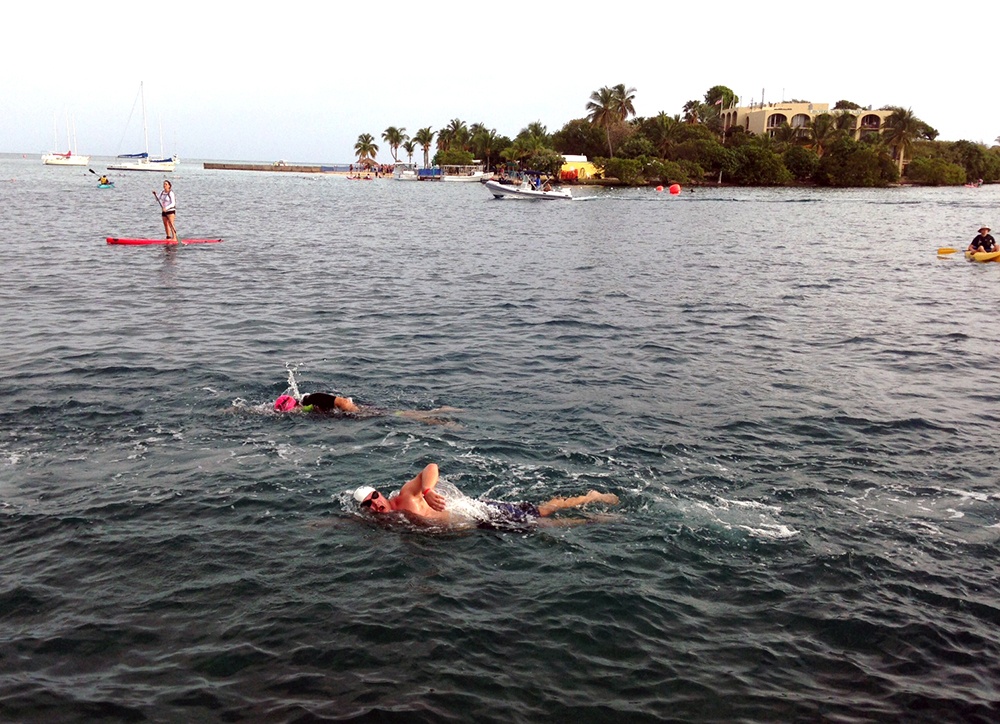 "I sometimes hear people say there isn't much to do on St. Croix, but really we have things like the triathlon that inspire local athletes to compete on an international level. We are lucky to have great companies like Cane Bay Partners sponsoring the race and local athletes," Dykstra said.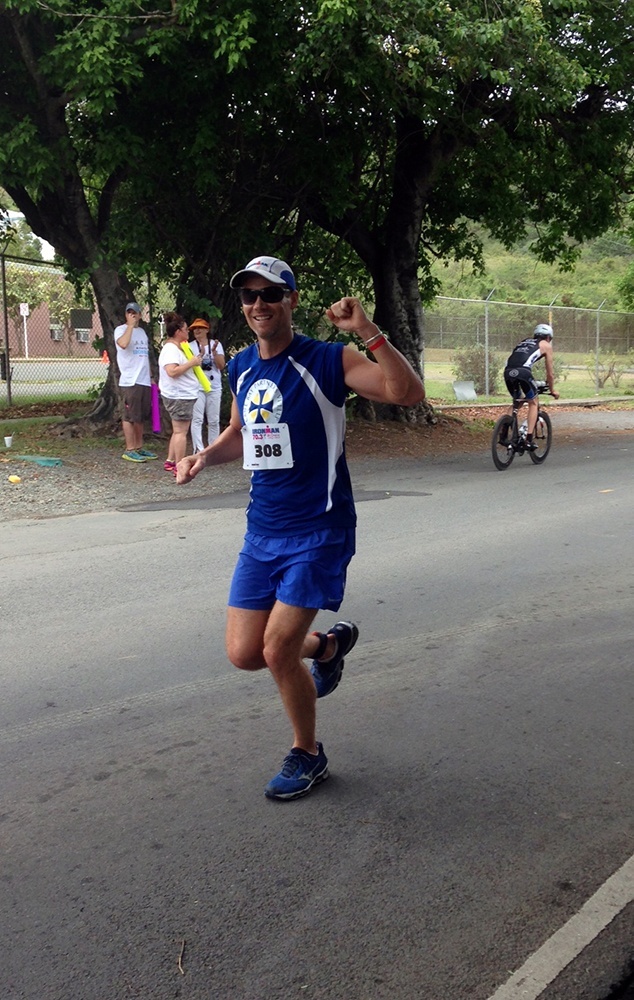 "Every year the race experience is different. This year, the heavy rain beforehand made for a tough bike course, but the run was cool and overcast," Sommer said. "It seemed that everyone had a great day out there, and as always the volunteer support from the community was outstanding. Thank you to Cane Bay Partners for supporting local athletes!"
Julie Sommer and Mehran Chirehdast, representing Team Cane Bay VI as a triathlete and as a relay member, respectively, in the Ironman 70.3 St. Croix triathlon, speed past the fort in Christiansted on Sunday. Sommer and Chirehdast, as well as Jeff Dykstra and Jason Snow, are local athletes sponsored by Cane Bay Partners VI, LLLP. Visit www.canebayvi.com for more details.
Cane Bay Partners is committed to supporting enriching sporting activities. The company also supports participants of the Puerto Rico Ironman, the Scenic 50 race on St. Croix, the 8 Tuff Miles race on St. John, the Roseway World Ocean School, the Golden Hook Fishing Club, the Virgin Islands Bowling Federation, St. Croix Dolphins, the St. Croix Foundation VIPD Golf Tournament, the Special Olympics, the Police Athletic League, Frederiksted Community Boating and others.
About Cane Bay Partners VI, LLLP: Cane Bay Partners VI, LLLP was formed in June 2009 and founded by internationally experienced business executives with many years of experience in the financial services industry. Focusing our efforts primarily in the financial services industry, our management consulting practice specializes in providing services to clients in need of sophisticated risk management models, debt collections organizations which require liquidation models and analytics, and portfolio management companies desiring a variety of services. More specifically, our practice has elected to specialize in three areas where we believe our core competencies reside: (1) management consulting (2) risk management/scorecard development and (3) service provider analysis.
For more information on Cane Bay Partners VI, go to www.canebayvi.com
For more information on the event, go to http://www.stcroixtriathlon.com/ or http://www.ironman.com/triathlon/events/americas/ironman-70.3/st.-croix.aspx#axzz46qHZymiT
Team Cane Bay VI Results:
Team Cane Bay VI – Relay Division Rank 5th
Overall rank 73
Swim: 38:38
Bike: 3:48:38
Run: 1:55:26
Total: 6:25:20
Julie Sommer – Female 35-39 Division Rank 2nd
Overall rank 55
Swim: 40:13
Bike: 3:26:12
Run: 2:02:26
Total: 6:13:48
Read more about this event on:
http://www.prweb.com/releases/2016/05/prweb13384678.htm
http://www.prunderground.com/team-cane-bay-vi-takes-top-spots-at-ironman-70-3-st-croix-triathlon/0072625/